How will your character escape the dungeon? By allying with a fellow prisoner? Attempt to disarm a corridor filled with traps? Battle the denizens? Climb across a pit filled with hazards? A one-shot D&D adventure, with a prize for the winner…
The game "Dungeon Escape" takes place on Monday Nights at 7:00pm, at Eye of the Beholder gaming guild, located at 12345 Telegraph Road in Taylor, MI. Featuring DrakenStone terrain. The player with the highest point total wins a DrakenStone Dungeon. Here are the point totals:
Jeff: 22 Points
Jeremy: 27 Points
Jimmy: 4 Points
Damien: 3 Points
Dan: 1 Point
UPDATE: Congrats to Jeremy B. of Taylor MI who won a DrakenStone dungeon! Well played!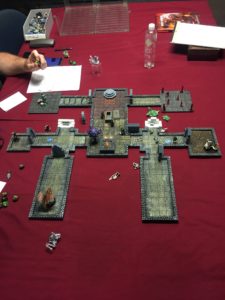 ***************************************
Here is how the point total is calculated:
10 points for being the first player to escape the dungeon
1 point for surviving
1 point for slaying a fellow PC
1 point for slaying 3 monsters
1 point for solving 3 puzzles
Gain 1 level every 3 times you show up to play the game