Check out the latest novel by author Andrew Thomas Schiller, on Amazon: https://www.amazon.com/Mask-Deception-DrakenStone-Chronicles/dp/B09GCLWL4W
Andy has published his first novel Mask of Deception. This is the first book in a series of 3. Get it on Amazon!
NOTICE: This game was patented Feb 20, 2019 via United States Patent Office, #16280191. This game will be launched on Kickstarter in late 2020.
©2019 DrakenStone, ALL RIGHTS RESERVED.
Game Creator: Andy Schiller.
The game "Dungeon Escape" was playtested at Get Your Game On in Ann Arbor MI, featuring DrakenStone terrain. The player with the highest point total wins!.
UPDATE: Congrats to Jeremy B. of Taylor MI who won the 2018 DrakenStone dungeon! Well played!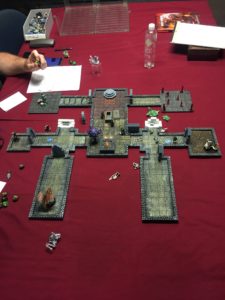 ***************************************
Here is how the point total is calculated:
10 points for being the first player to escape the dungeon
1 point for surviving
1 point for slaying a fellow PC
1 point for slaying 3 monsters
1 point for solving 3 puzzles
Gain 1 level every 3 times you show up to play the game