We are launching Kickstarter #8, beginning Friday the 13th!!!! October 2023…
Nor Gan's Book of Quests. 150 pages. Illustrated in the OSR style by artist Angela Michelle Schiller. Traps, puzzles, monsters, NPCs, sample characters, handouts, feats, and maps.
We just launched our 7th Kickstarter, the Pet Jelly Cube!!!
https://www.kickstarter.com/projects/drakenstone/pet-jelly-cube-by-drakenstone-and-unremembered-realms
******************************
We have finished our 6th Kickstarter, The Dice Tower of Fortune. Go to GAMEFOUND.com for late pledges…
https://kickstarter.com/projects/drakenstone/drakenstone-dice-tower-of-fortune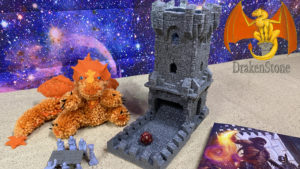 Our 5th KS, Magnet Maps…
https://www.kickstarter.com/projects/drakenstone/magnet-maps-magnetic-wall-blocks-for-tabletop-rpgs
Map Cards:
Previous KS:
Our FOURTH KS, Fantasy Architecture Ruins & Terrain; It launched July 17, 2020. It was funded in LESS THAN 1 HOUR!!! We received $5,037, and predict that the rewards will be sent on time. We are scheduled to receive the funding on August 29, 2020.
http://kck.st/30lZhys
Our THIRD Kickstarter in June of 2018 received 5 TIMES our funding goal!!! We've fulfilled all our Kickstarter pledges for our Magnetic Modular Terrain!!! 22 people supported our project. We only asked for $1,000, but we were blown out of the water… we received $5,346!!!!!! We met ALL TEN stretch goals. Thank you to everyone who participated.
Our SECOND Kickstarter was launched on May 30, 2019. We received about $4,800, and our goal was only $1,000. Thanks to all 40 people who supported our project!!!
https://www.kickstarter.com/projects/drakenstone/stackable-modular-magnetic-terrain-for-tabletop-rpgs
As a special "thank you" gift, we're offering a FREE BONUS. If you backed any of our previous Kickstarters, and pledge at least $25 in our latest Kickstarter, we'll include a Dice Castle FREE.