We provide all the molds, plus high quality Merlin's Magic Dental Stone powder. You add water, stir, and start pouring! Your dungeon terrain will be ready to take home within the hour…
NEXT EVENT: March 9, 2019 at Eye of the Beholder in Taylor!!!
https://www.facebook.com/events/548249402334124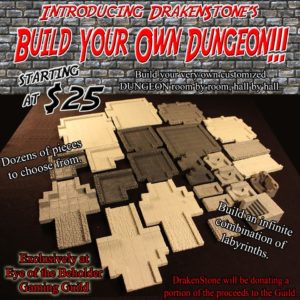 At Eye of the Beholder Gaming Guild, 12345 Telegraph Road, Taylor MI 48108… we host the event on the SECOND SATURDAY of every month. We've been doing this for 8 months now, and it continues to grow! For more information, email: drakenstone@yahoo.com, or check out the FaceBook Page: facebook.com/drakenstonecastle.
Participants who click on "Going" on the Facebook Event will receive a free prize when they attend the event.